Dome Sticker Manufacturers in Pune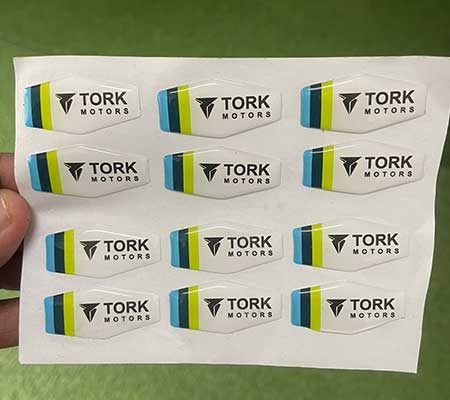 We specialize in manufacturing premium dome stickers that will distinguish your business or goods from the competition. Every time, our high-quality sticker items are delivered on schedule. Our product's quality is unrivaled, and we always fulfill our commitments.
Domed stickers are manufactured with a clear, scratch-resistant coating to protect the design, making them waterproof, weatherproof, and UV-resistant. In order to create these stickers, pre-cut stickers are covered with a liquid resin and let to cure.
Product Description
Doming Stickers' innovative and ever-evolving technology is just another excellent product in our company. Any substrate surface, whether metal or non-metal, is covered with flexible epoxy or PU coating to improve the label's aesthetic value during the production process. The doming also serves as a layer of protection, making the label impervious to tampering and the elements. For your doming label needs, call right away.
A dome sticker, also known as a domed decal, resin sticker, or 3D sticker, is a type of label or decorative element that features a three-dimensional, domed appearance. These stickers are created by applying a clear, durable polyurethane resin on top of a printed design, creating a raised and curved effect. The resin not only gives the sticker a distinctive look but also provides protection against UV rays, scratches, and other potential damage.