Industrial Nameplate Manufacturer in Pune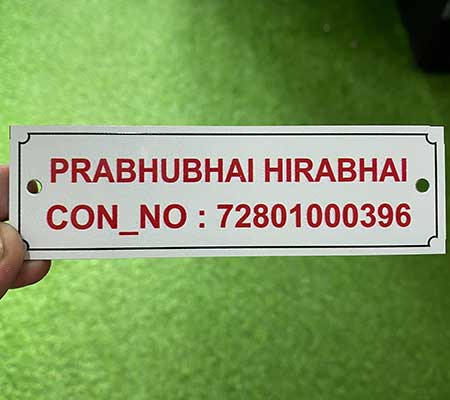 Mrugesh Laser Engravers is the best (industrial name plate) industrial nameplate manufacturer in Pune. Our products include industrial equipment nameplates, industrial nameplates, durable industrial nameplates, and custom industrial Nameplates. Manufacturers of Industrial Nameplate produce and supply a high-quality selection of nameplates for industrial use using premium-grade materials. These come in a variety of unique designs and are entirely stain-proof. These nameplates are offered for both industrial and commercial usage. All of these are delivered to our many clients across the country and are priced at the top of the market.
An industrial nameplate is a type of identification plate or label used in industrial settings to provide essential information about equipment, machinery, products, or processes. These nameplates play a crucial role in conveying important details to operators, technicians, and users, helping to ensure proper operation, maintenance, and safety in industrial environments. Industrial nameplates are typically designed for durability and often need to withstand harsh conditions.