(SS Nameplate) Stainless Steel Nameplate Manufacturers in Pune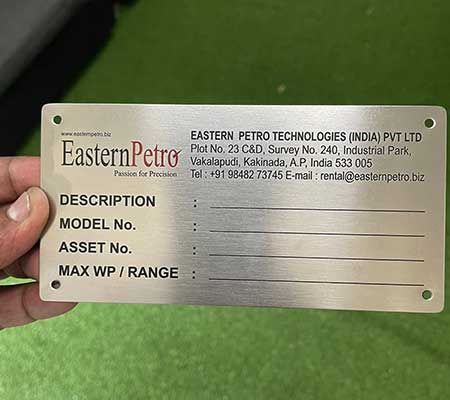 We are a leading Manufacturers of SS Nameplate, Stainless Steel Nameplate in Pune. You can also find here high quality Stainless Steel Engraved Nameplate, Designer Sign SS Nameplate, SS Machine Nameplate, Stainless Steel etching nameplates, Stainless Steel Metal Name Plates, SS Nameplate at best price.
Our distinctive line of stainless steel nameplates are crafted from premium stainless steel and has an attractive seamless finish. Because it contains chromium, stainless steel is resistant to rust and tarnishing. As a result, our ss nameplates can survive bad weather, making them appropriate for both indoor and outdoor use.
A stainless steel nameplate is a type of identification or labeling plate made from stainless steel material. Stainless steel is a corrosion-resistant and durable alloy that makes it well-suited for various applications, including industrial, commercial, and decorative purposes. Stainless steel nameplates are known for their sleek appearance, resistance to environmental factors, and longevity.
The widest selection of stainless steel name plate/nameplate designs is available from Mrugesh Laser Engravers. From a wide selection of name plate designs, pick the ideal stainless steel nameplate for your house or place of business. All of your nameplate ideas can be fulfilled by one of our nameplate designs.
Stainless Steel Nameplate
Laser Cutting And Engraving
Customize Designs
Customize Dimensions
Mild Steel Available
Stainless Steel Available